I remember how I felt when I found out I was pregnant with my first baby. It was a total surprise. It took several days for it to really sink in. Once it did, my first thought was "I can't even take care of myself half the time, how will I take care of a baby?"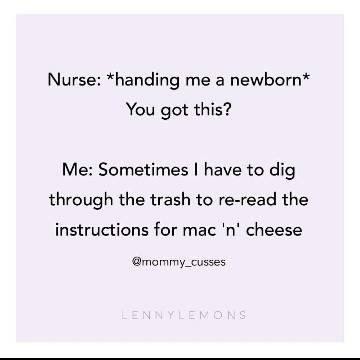 Me, Pregnant?
Part of the reason for my surprise is that I had not planned on having a baby anytime soon. I was in the Army when I found out I was pregnant, didn't have a doctor that I was comfortable with, and didn't know of any. In addition, was hundreds of miles from home. I was married back then, and because we were both military, that was really our only support system. I was terrified and felt alone. Because I had been somewhat of a nomad for several years, I had moved all around the country. No roots, no solid relationships, and no family nearby. I separated from the Army a few months before my son was due, and his father was separating from the Army right after he was born. We decided to move back home to New York after the birth so we could have the help of our families.
The Big Move
At the time, I thought I was in a pretty unique situation. Quite honestly, I have never done anything the easy way, and the circumstances surrounding the birth of my first baby were no different. I spent the last few weeks of pregnancy panicking about how I was going to manage this move. What if the baby was late? Or I ended up with a cesarean delivery? How would I manage? I was packing a house, planning a multi-state move right after my first baby was to be born. Nathan was a week late (not a cesarean), and I spent the first week of his life running around town closing bank accounts, collecting medical records, finishing the packing, and getting ready to leave the town that had been my home for 2 years. It took 3 days to drive back to New York from North Carolina. Nathan was 10 days old when we arrived back home. It was a blur. I was miserable.
No One Just "Has A Baby"
Now that I have spent the last 15 years working with families during this delicate time, I have realized that my experience in the postpartum period really wasn't unique after all. The majority of the families I work with never seem to just "have a baby". There are many layers to life, and having a baby often comes with moving, starting a new job, the death of a family member, or some other huge life change. Any of these life changes make it difficult to concentrate on having a baby. Society tends to hold expectations for us that feel almost impossible to fulfill, and transitioning to parenthood is a struggle all on its own.
Societal Failures
We celebrate babies and the amazing humans who choose to have babies. We have parties for them during pregnancy; shower them with every baby item and cute little outfit that we can find. We inundate them with prenatal information about childbirth and parenting, send them to multiple doctor appointments, and offer endless advice. Once the baby is born, new families are left to fend for themselves. Those first days home from the hospital are nothing short of a culture shock. No more doctor appointments, no one to answer questions about recovery. Why is the baby crying? Is he starving? Is breastfeeding supposed to hurt? If babies only sleep and eat, why am I so tired? Why won't the baby let me put them down in one of the several baby holding chairs/rockers/swings that we have taking over our living space?
Post Partum
It's safe to say I definitely wasn't prepared for what came after the birth of the baby. I was so unhappy. I didn't know what was happening and I hated breastfeeding. How could I feel so insecure and unstable? No one talked about this part of things. Everyone only talked about how beautiful the baby was, how happy we should all be and how wonderful it is to have a new baby in the family. I didn't feel any of that at all. No one talked to me about postpartum mood disorders and what my risk factors were. It took me a long time to adjust to my new life. At the time I related it back to my "surprise" pregnancy and all the changes that happened afterward. I realize now that I would have struggled to adjust even without those other obstacles thrown in.
Superhero
Eventually, I adapted. I felt needed and loved by my son. I began to really love breastfeeding and felt very proud that Nathan was growing and developing just from my milk. Watching him learn and flourish was fulfilling. I found it to be a strange sensation. Maybe I shouldn't even call it a sensation. I made decisions based on my son and our new life and my life as a mother. It was a superpower I never realized I had. Even though I made those decisions and choices, I found it to be a lonely life at times. I didn't really have other mom friends and I wasn't working, so it was almost as if I had lost my identity along the way, yet this is what I chose to do. I couldn't complain, right? Who needs an identity, anyway?
Transitions
I know it was my experience with my own children that launched me into this role as a lactation consultant and maternal child health specialist. When I had my kids I felt abandoned in a way, even though I had help from my family. I fought my way through postpartum, felt intimidated by breastfeeding, and coveted a support system that I could really bare my soul to. THIS is what motherhood is about. THIS is what it really looks like. It's not the smiling, perfect face one may see on social media. Facebook is a liar. I feel like it is my job now to align myself with new parents and assure them that what they are experiencing may not feel normal to them, but it is, indeed, normal.
It's ok to take the time to adapt and adjust to this huge transition. It's ok to feel overwhelmed and it's ok to even hate what you are doing some days. You might feel insecure about who you are now, especially when you took a long time to become who you were before the baby was born. You will be that person again, or you will marvel at the person you are becoming.
No One Told Me This Is What It Would Be Like
If I could do it again I would find my tribe. My tendency to keep to myself didn't do me any favors. Historically, new mothers were not intended to do any of this alone. Somehow, we lost the art of community. Let's face it, the baby business doesn't really slow down. However, people evolve and times change and we would all benefit from support and community during vulnerable times. Motherhood, this amazing rite of passage, is a very solitary place if we give it that power. Every new mother I work with is caught off guard. No one told me this is what it would be like, is our motto.
So let's talk about what it's really like. Let's be realistic when we talk to others about becoming a mother, transitioning into a family, growing a family. It's hard enough to be a parent and partner and friend and lover and employee (or employer). Let's support each other through it.
Suggestions For Support
Here are a couple of really easy ways to support a new family:
Just Listen
Listen to whatever needs to be said. No judgment, no lame platitudes or suggestions. Give a new parent space and safety to talk freely, whether it be about breastfeeding, sleepless nights, the baby's birth. Don't try and solve problems or look on the bright side. Just listen.
Offer to help
New parents often tell me they feel uncomfortable with guests after the baby is born. They feel like they need to entertain, the house should be clean and tidy, they should offer a meal. If you plan on visiting a new parent, tell them you are coming to drop off a meal or groceries, walk the dog, or do the laundry. Don't tell them you're coming to see the baby. Of course, you will see the baby, but the other stuff is important too.
Offer your company
One of the scariest things for a new parent is being left alone with the baby for the first time. I remember panicking the first day my partner went back to work. I was suddenly alone with a baby. It feels lonely and isolating. If you can, offer to come over and spend a little time, bring some lunch, help the day go by a little easier. If you can't physically be there, check-in during the day to offer your support.
Build Your Tribe
Our society tends to focus a lot on pregnancy and the birth of a baby, not necessarily on the birth of a family. Let's start to shift focus to support during the fourth trimester. Build your tribe.