The value and benefit of breast/chestfeeding for both baby and parent are undeniable.  There are countless studies out there to substantiate why breastfeeding is advantageous.  We know breastfeeding provides a multitude of health benefits for both parent and baby.  There are also various environmental, psychological, physiological, and financial benefits that are attached to breastfeeding.  Regardless, it is not uncommon for many breast/ chestfeeding babies to receive bottles at some point.  It can be confusing to try and figure out how to get the whole pumping process started and how to introduce bottles. Here are a few guidelines to help you know when to pump and introduce bottles to your breastfed baby.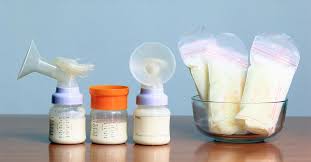 Parents give bottles for many reasons. I haven't met too many parents who don't ever give bottles. Most new parents return to work, leaving their baby in the care of another for the duration of time they are gone. Obviously, in this situation, your baby will have to take a bottle.
I gave very few bottles when I had my first baby. I was fortunate enough to stay at home with him, and I rarely needed to offer bottles. He had maybe 5 bottles his whole life. When I had the twins, I needed a little more help with feedings at times. Bottles made things a little easier for me if I needed that extra help. That also means I had to pump more than I did the first time too. No matter what your reason is for giving bottles, you may have questions about how to get started with it all.
When To Start Pumping
If your baby is feeding well and gaining weight, do not pump for the first few weeks.  This is important.  If your baby is feeding every couple of hours and you are pumping, you are telling your body to make milk for more than one baby.  At the beginning as your milk is coming in, feeding your baby is what communicates the message to your body about how much milk to make.  If you are doubling that stimulation, you are risking overproduction.  Overproduction may sound like something you want, but trust me, you do not.  After about two weeks, you can start to implement some pumping if you want to. At this point, introducing bottles is ok too. Keep in mind that it is just one more thing to do, and there is no reason to rush into anything.  
So, you're ready to start pumping, now what? Most parents find the best time to pump is first thing in the morning. This is for a couple of reasons. First, your baby likely goes a longer stretch between feeds during the night. Next, the hormone prolactin is higher overnight. Prolactin is responsible for milk production and helps keep your milk supply where it needs to be. Because it's higher at night, odds are you will feel fuller in the morning.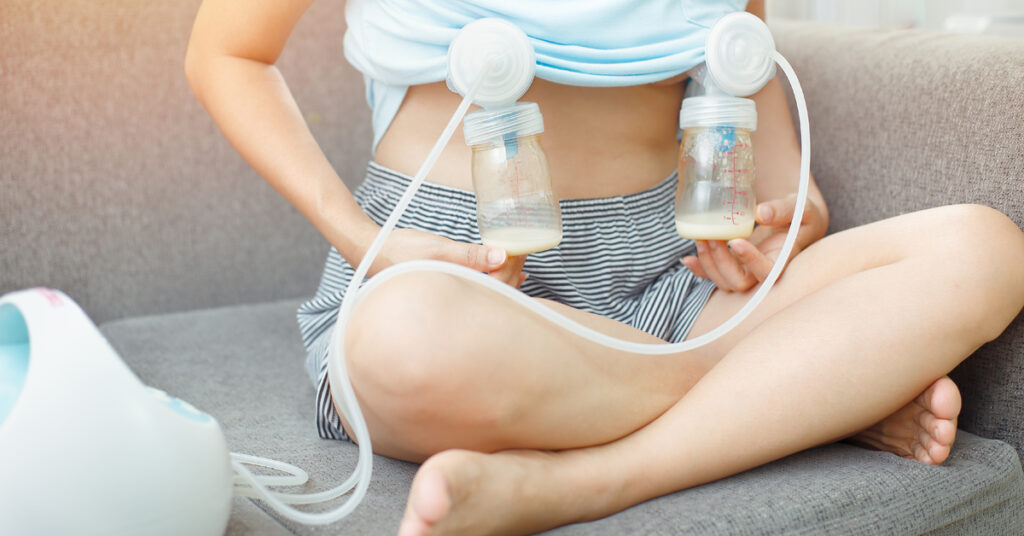 Pumping After Feeds
You can pump after feeds if you want to. If your baby only feeds on one breast per feeding, you can pump the other breast. It's important to remember that you are never taking milk away from the baby. Pumping adds stimulation. Remember, the breast is never empty, so you can feed the baby after pumping if you need to.
Baby VS. The Pump
The baby is better at getting the milk out of the breast. Pumping is just a tool we use to collect milk to leave for the baby when we aren't there to feed. One of the problems with pumping is that it's much more visual. You can see exactly what is happening, and how much milk you are collecting. This can work against you, and usually does. I have received many panicked phone calls from a pumping parent who didn't express as much milk as she thought she should, and was concerned the baby is starving. Babies get more when they breast/chest feed.
Pumping Variations
Pumping is variable, and you can get different amounts based on time of day, where you pump, what kind of pump you have, and so on. The list of variables is quite long. In addition to worrying about the volume of milk pumped, many parents fall into the trap of comparing what they pump to other pumping parents. Don't do this. It doesn't matter what anyone else does, what you pump for your baby is perfect.
How Much Milk To Save
Parents often as me how much milk they should have stashed away.  There are no specific answers to this question.  It all depends on how much milk you want to have saved.  If you are staying home with your baby, you will not need to save as much as someone who is returning to work full time.  I have known families who have a small amount in the freezer and use what they pump daily while they are at work.  At the other end of the spectrum, I have known families who feel secure with 150 ounces in the freezer. Both are fine because both scenarios benefit the needs of the family. 
Keep in mind that the more milk you want to stash away equals more time attached to the pump. Pumped milk can be stored in either the refrigerator or the freezer. You can learn more about milk storage here.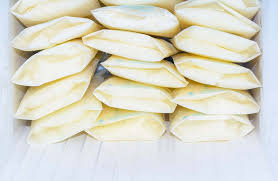 Child Care
If you are returning to work, you will need to supply your child care providers with milk for your baby. As a general rule, plan on your baby needing about an ounce of milk for each hour you are away. It can seem tricky. We recommend feeding babies on demand, but they almost always get on a regular schedule once in a child care setting. Your baby will probably take a bottle every three hours. Be very specific about how much milk you want your baby to have. It is really common for caretakers to overfeed by bottle, and this is because they don't know your baby like you do.
Parents frequently tell me their baby is fussy with a caretaker when they return to work.  This is normal and expected.  This is a huge transition and you and your baby need time to adjust to the changes.  Talk with your caretaker about this.  It is common to mistake the fussiness for hunger, which will result in overfeeding. Teach your caregivers about paced bottle feeding to prevent overfeeding and mimic breastfeeding.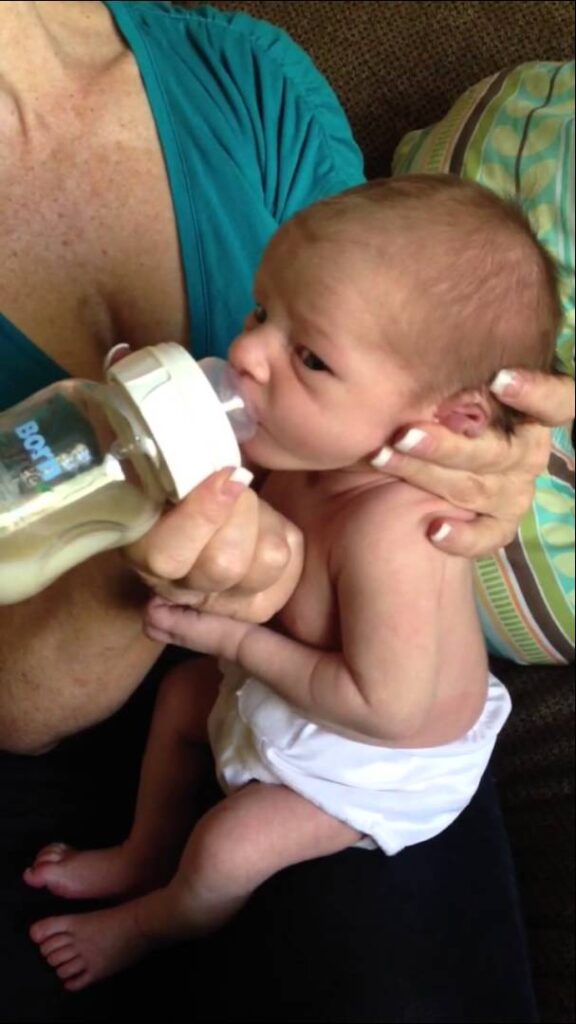 Back To Work Pumping
When parents return to work, they often feel as if they should be pumping every two or three hours. This would keep them on the same schedule as the baby. This would be a great scenario, but not realistic. Most breast/chestfeeding parents are not able to pump that frequently. If you are able to pump three times in an eight-hour period, that is manageable and should be enough. If you can do more, that's even better.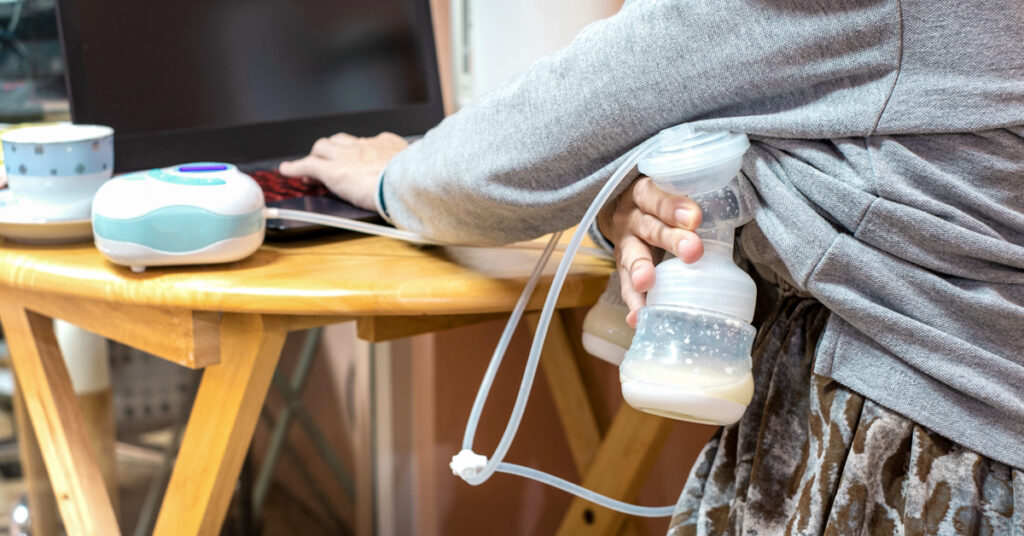 Every situation is different. This is just a general guideline to help you get started with pumping. You can find more information and pumping schedules here. If you are having any trouble with pumping or if you have questions about bottles, contact a lactation consultant. They are there to help!