Breastfeeding myths have been around since, well, since breastfeeding itself. Somehow, breastfeeding myths have gravitated into that grey area of true and false. Where did they come from? Some are cultural, some come from personal experience. And let's face it, some are just completely made up fabrications. The following are some common breastfeeding myths debunked.
Gassy Foods Will Make Baby Gassy
This breastfeeding myth is by far one of the longest-running and most popular myths. It is a common misconception that everything you eat goes to the baby. This is a great example of information based on what is "thought" to be true. It would only make sense that what you eat must go to the baby, right? And if you eat something known to cause gas (think broccoli or brussel sprouts), certainly your baby will be struggling with gas. There is no research to support this. The truth is, milk is made from a parent's bloodstream, not from stomach contents. The fiber in foods is what makes us gassy, and fiber does not get into the bloodstream.
Truth Behind Gassy Babies
Babies are gassy, just because they are babies. They have an immature digestive system. Everything on babies is immature, and it takes time to mature and grow stronger. Their digestive system is no different. All of these sensations are new to babies, and they may be bothered by that. Babies are also unsure how to get rid of the gas, and their underdeveloped muscles may have trouble passing the gas through their system. All of this is normal newborn behavior and has nothing to do with the salad or vegetables you ate for dinner. Consider this breastfeeding myth debunked!
Breastfeeding Will Be Painful
Mammals have been breastfeeding for thousands of years. If it were so painful, it would not be sustainable. Although breastfeeding is hard, it would be unbearably hard if it were painful as well. Basically, breastfeeding should not be painful. Nipples shouldn't need to "get tougher" and nipple damage should not be happening. What should happen is adequate support and guidance for the breast/chest feeding parent and baby. Pain is a sign that something is not right, and we need to fix that. It has been my experience that many painful latches can be addressed by switching positions, monitoring the latch, and feeding and educating a new parent on what to expect.
Painful Misinformation
I often hear a parent express frustration because she has been told "breastfeeding hurts for the first few weeks until your nipples toughen and then it will be fine". Parents hear this from medical professionals, so they expect this to be true. Nothing is further from the truth. If you latch your baby for a feeding and you have pain throughout the entire feeding, that is a red flag to find help. Have a lactation consultant help you with position and latch and make breast/chest feeding an enjoyable experience for you and your baby. If you are experiencing painful feeds, here are some great suggestions for healing those sore nipples.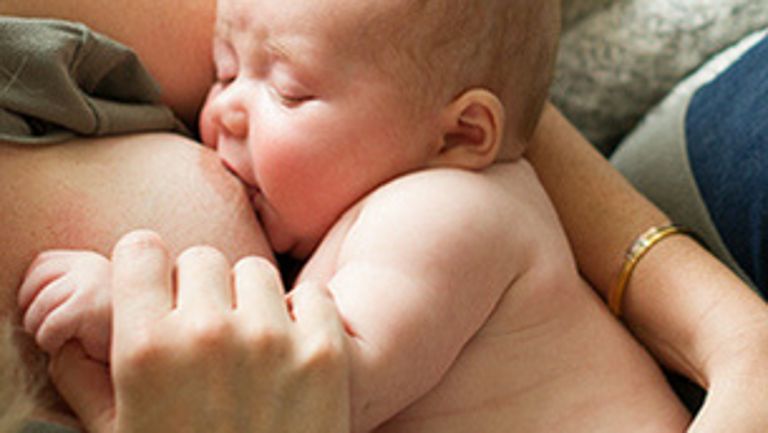 Caffeine
When it comes to breast/chest feeding, caffeine has a bad reputation. It's like that naughty friend who is a bad influence. You feel guilty hanging out with them. The breastfeeding myth we need to debunk is drinking coffee or anything with caffeine. Naysayers might tell you caffeine will cause your baby to be jittery, fussy and napping is out of the question. Fortunately, this is an exaggeration of the truth. It would take a lot of caffeine to impact your baby.
How Much Caffeine Is OK?
It's important to remember anything you take in is metabolized first, it does not go directly to the baby. In addition, older babies metabolize better than younger babies. When it comes to caffeine, researchers say about 300mg is safe for breast/chest feeding parents. This is equivalent to about 2-3 cups of coffee. If you are someone who likes to drink 5 or more cups a day, you may see some reaction, depending on the age of your baby. I personally don't know too many people who drink more than 5 cups of coffee daily. As with most things in life, moderation is key.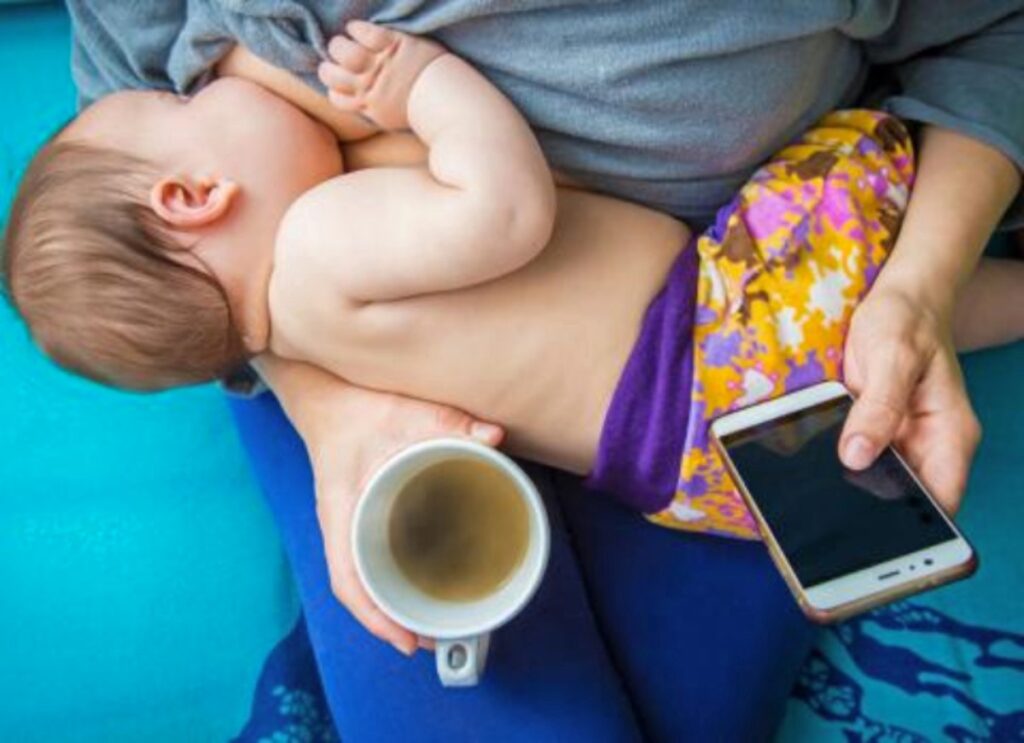 Water Consumption
It is a popular belief that more water equals more milk. I think I know how this myth was started. Breast/chest feeding makes you thirsty. This is due to the hormonal release, specifically oxytocin, that happens when breast/chest feeding. This does not mean you are dehydrated to the point that your body is not making milk. We encourage parents to drink if they are thirsty, and if breast/chest feeding makes you thirsty, you should drink some water. There is absolutely no research to conclude that milk supply increases with fluid intake. It is important to stay hydrated and take care of yourself, which is sometimes lost in the new parent haze. If you feel like you aren't drinking enough water, don't panic. It will not affect your milk supply in a negative way. Just get something to drink and remember to stay hydrated. Dehydration is not good for anyone.
The Amount Of Milk Pumped Is How Much You Make
Pumping myths are as popular as breastfeeding myths. Our culture has grown quite fond of pumping, and with the increase in pumping popularity came misinformation around pumping. The most damaging of pumping myths is regarding the volume of milk pumped. It's a common belief that the amount of milk pumped is the same as the amount of milk you are making. Pump and see how much you are making or pump and see how much baby is getting are suggestions that are completely damaging to a breast/chest feeding parent.
Pumping Is Different For Every Parent
Pumping is variable, which means it is different based on the parent, type of pump used, time of day, etc. It is also never a true indication of how much milk you are making. Even the best, most expensive pump is not efficient enough to pull all the milk out. There is always milk left behind. Think of the pump as a tool, something to use so you can leave milk for the baby if you are not available to feed them. Most importantly, never compare how much you pump with how much someone else can pump.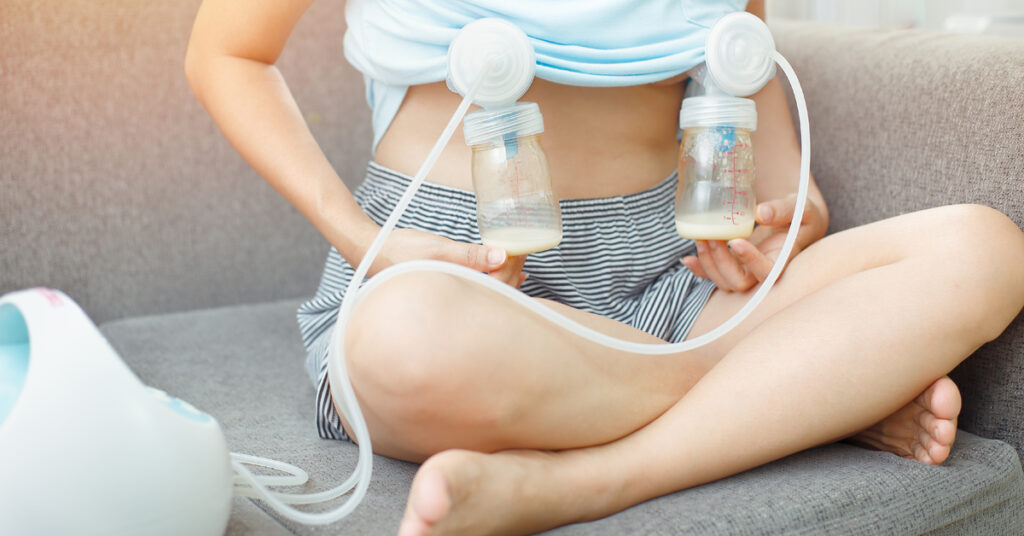 Alcohol Consumption
Much like caffeine, the myths and stigma around drinking alcohol and breast/chest feeding are popular. Alcohol is metabolized through your bloodstream, so it does pass through breast milk. However, alcohol also metabolizes quickly, and very little is passed through to the baby. Basically, if you feel sober, you are fine to breastfeed. There is more concern around making concise, safe parenting decisions when you are under the influence of alcohol than if you are breastfeeding.
Don't Pump And Dump
Pumping and dumping your breastmilk if you have had a drink is not necessary. This does nothing except waste perfectly good milk. It does not speed up how quickly the alcohol is eliminated from your milk. Putting a time limit on your drinking does not necessarily work, either. Alcohol metabolizes differently for everyone based on food consumption, body weight, etc. It is best to go by how you are feeling. I don't meet too many new parents who can't wait to go out and drink. However, it is nice to know that you can have a drink if you want one. If you want more information on alcohol and breastfeeding, check out this episode of the Badass Breastfeeding Podcast. You will have all the knowledge needed to make an informed decision.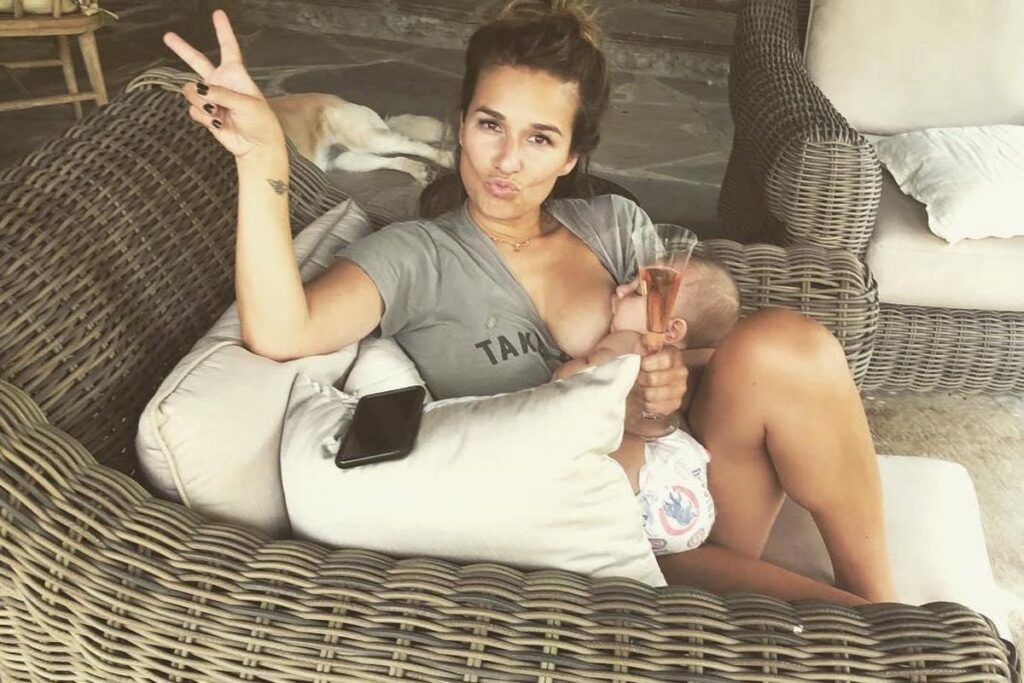 Breastfeeding myths are one of my favorite things to talk about. Partially, because I really enjoy science, research, and getting to the bottom of it all. Partially because it's just entertaining. If there is ever anything you are unsure about when it comes to breast/chest feeding, ask a lactation consultant. They will be more than willing to give you the bottom line truth. Interested in learning about more popular myths? Listen here.