Just when you thought breastfeeding was finally rolling along smoothly, you hit another problem.  Your sweet baby has become distracted, and breast/chest feeding has become difficult.  If it sounds like I am describing your baby, here are some things to watch for and some tricks to use to get your baby to happily breast/ chest feed without distraction (hopefully). Tips for breastfeeding a distracted baby are priceless.
Distracted feeds usually happen between the ages of 2-6 months, although I usually get the most complaints around 3-4 months. This is totally developmental, and it will pass. If you are in this distracted phase right now, don't worry. Your baby will get past it and return to normal feeding patterns before you know it. Until then, you have to be a little creative to get through it.
Developmental Changes
I think developmental changes are so fun. If you are experiencing some developmental changes with your baby now, you may not agree with me. But think about it – your baby is growing and developing and learning about the world around them. It's a really amazing time for them. Every day is a new adventure for them, and for parents as well.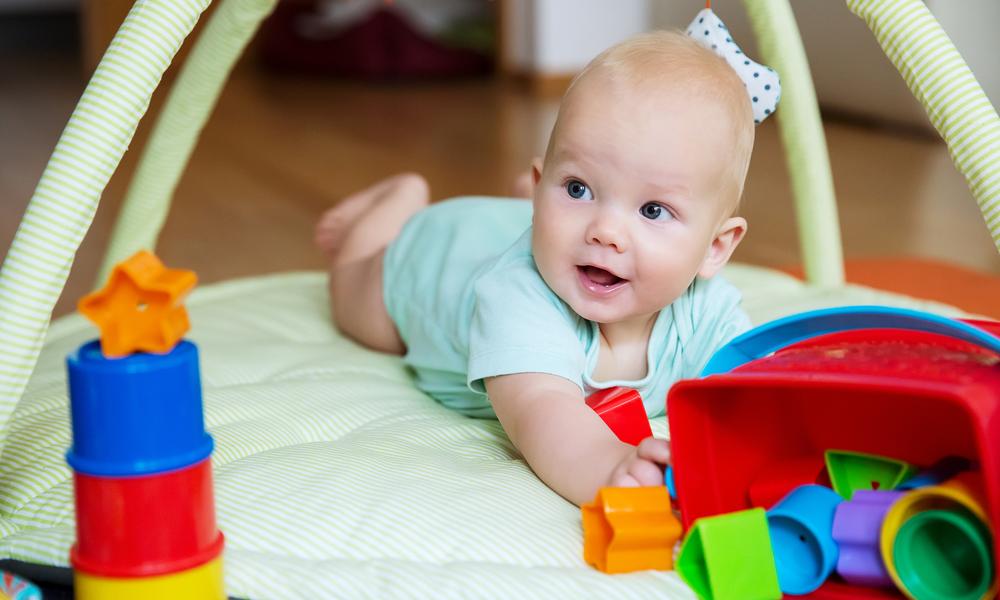 More Efficient
Babies are becoming more efficient around this age. They don't need as long to breast/chest feed anymore, and they are becoming more interested in playing than feeding. This is usually the first clue that your baby is becoming distracted. You are used to that little baby who takes longer to feed. All of a sudden, they can go from 30 minutes of feeding, sleeping, and suckling to 10 minutes and popping off the breast. Try to put them back on and they just continue to pop off. This is not your baby trying to wean from breastfeeding, this is your baby trying to tell you they are done for now. It can seem strange at first, and it's almost as if this can happen overnight. One day they are camped out at the breast, the next day they are done in just a couple of minutes.
Observing
Babies this age are also starting to notice more things around them. Maybe it's the light coming in the window behind you, or the trees outside that window, or the necklace you are wearing. This might be enough to make them stop feeding for a minute and take it all in.
Noise and Activity
Noise and activity happening around your baby will probably be most distracting. Watching tv while you breastfeed? Your baby may suddenly whip their head around to see where that noise is coming from. Sometimes they will unlatch before they turn their head, and sometimes they don't. The dog wandered into the room, baby has to stop and reach out for him too. Big brother is playing nearby, baby is popping on and off the breast because they don't want to miss a second of what big brother is playing with. It may seem cute when it first starts happening, but it quickly becomes annoying.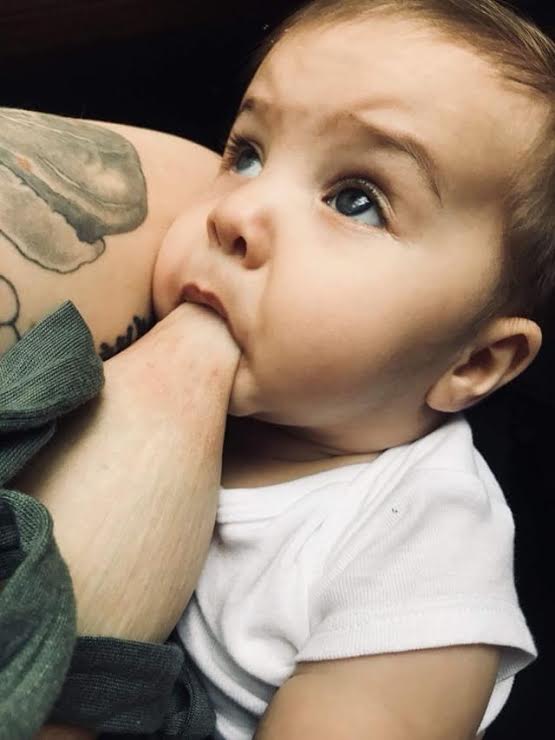 Night Waking
You may also notice that your baby is waking more frequently at night. The distractibility can be enough to disrupt daytime feedings to where your baby starts waking at night to make up for it. This is often referred to as sleep regression. Regression makes it sound like your baby is doing something wrong when it's just the opposite. Your baby is growing and developing, and it is disrupting other areas of life. Often parents will become concerned that breastfeeding is no longer enough and consider supplements. This is unnecessary. Just keep in mind that your baby has control of their feeds, and they are just making adjustments to their routine. This is also a passing phase.
As frustrating as all of this may sound, there are things you can do to help.
Quiet Room
The days of breast/chest feeding in any room at any time might be over for now. Sometimes the easiest way to keep a baby focused for a feeding is to eliminate any distractions around you. Escaping to a quiet, dark room can be a saving grace. There are limited distractions. Just remember to close the door to keep out any pets that will surely disrupt your feeding.
Walking
One of the first things I suggest to breast/chest feeding parents is to walk around with your baby during the feed. Babies love movement and walking while feeding can help keep them content and distracted during the feed. You don't have to leave your house and go for a walk, just pace around your living room. This can be especially helpful if you happen to have other children and locking yourself in a quiet room is out of the question.
Feeding in a Carrier
I am a huge fan of babywearing. Not just when you are out and about, but when you are home too. I remember cooking dinner with a baby on the front of me and one on the back. Breast/ chest feeding in a carrier can help with distractions by keeping your baby focused and at the breast. Depending on your carrier, your baby might be a bit shielded from what is going on around them as well. Unsure about how to breast/chest feed in a carrier? You're not alone. There are some great tips, tricks and videos available to help.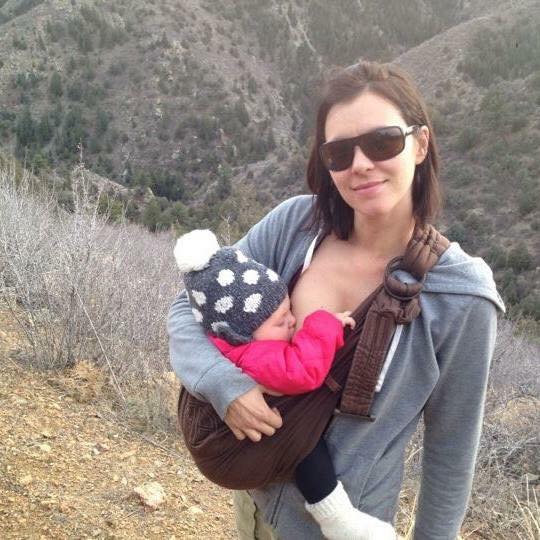 White Noise
Another great trick is white noise. Babies find white noise to be soothing and it will mute much of the other noise around them that will cause distraction. There are portable little white noise machines that you can stash next to your nursing chair, or just download one of the many white noise apps to your phone and turn it on when you start feeding.
Nursing Necklace
A nursing necklace is something I often suggest to parents. It's one of my favorite tips for breastfeeding a distracted baby. They are simple and can be enough to do the trick.  A nursing necklace is a colorful, beaded necklace you would wear for a feeding.  The necklace serves as a distraction and something for the baby to play with while they are nursing.  You can buy one, but you can also make one.  Just string together some brightly colored beads and you're all set.  Only wear this for feeding.  The idea is to keep your baby interested by pulling out this fun, mysterious toy they can only play with while they are breast/chest feeding.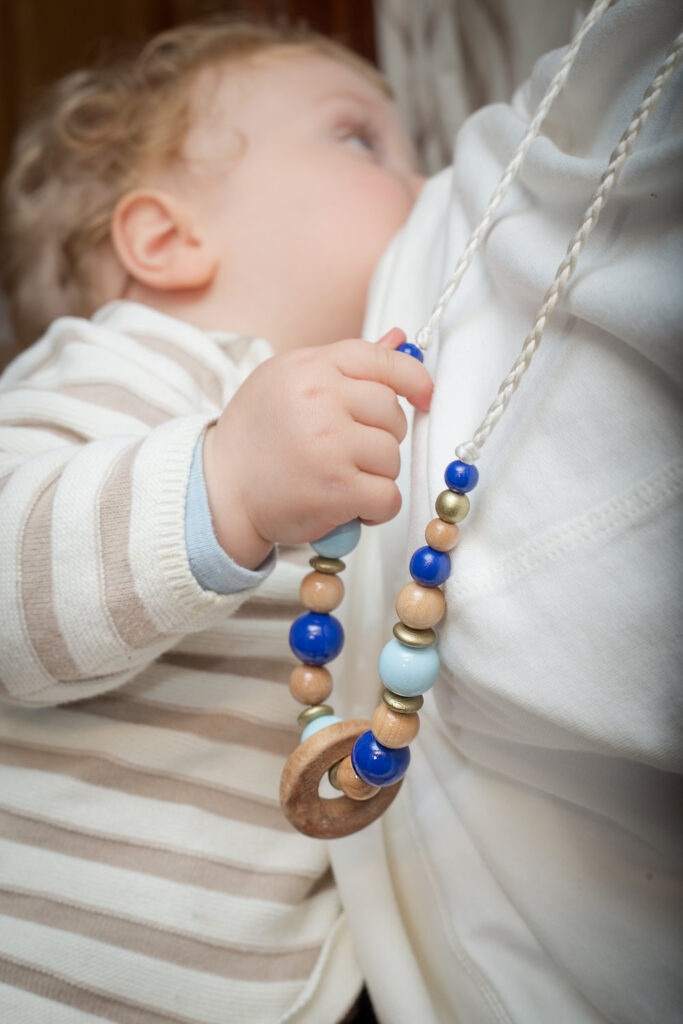 Singing and Talking
Your baby loves to hear the sound of your voice. Sometimes the best way to keep your baby focused during a feed is to talk and sing to them. They will keep their eyes on you and not on what is happening around them.
If you are dealing with a distracted baby, try to remember that this is a developmental phase that will pass before you know it. Until then, try different things to keep them occupied while they breast/chest feed. You may need to try more than one thing, and you may find that what is working only works for a short period of time before you have to try something new. But by now, I'm sure you have figured out life with a baby can be pretty unpredictable.